Quick reminder:
The final book of the
I WISH trilogy
releases soon. You can
preorder Wish You Were Here
now (and read a small excerpt below).
I have the first 2 books on sale for 99 cents at e-retailers and a giveaway of 3 paperbacks of book 2 on Goodreads.
99-cent sale ends Sunday, June 5
The Goodreads giveaway ends Friday, June 3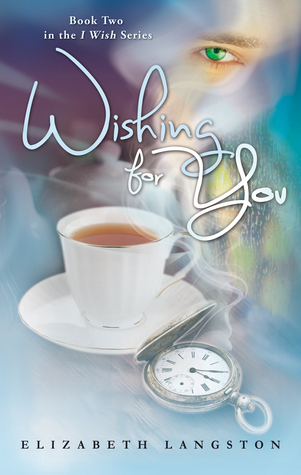 Enter Giveaway
Here is a small excerpt from Chapter 7 of
Wish You Were Here
.
Grant smiled at me. "May I infer that the interrogation is about to resume?"
His eyebrow arched. "It is only fair to warn you that, while I never lie, I rarely volunteer the entirety of the truth."
"Noted. So how long have you been in the League?"
"My inception was four years ago."
"I am presently considered to be the human equivalent of nineteen."
"How long has the League been in existence?"
He straightened. "I cannot answer that."
"I can confirm a while." He wiggled his shoulders, as if trying to get comfortable, and then reclined again. "I can also share that the current environment is relatively new. Not long before my inception, the League underwent a major reorganization. Discipline had become lax. Beings had become overly servile, and human masters had responded with attitudes of…entitlement. The League reacted by overhauling our policies and procedures. While I applaud their attempts to protect Beings and clarify our mission, it is my opinion that the revised rules lack healthy flexibility."
"Will you help to loosen things?"
His lips twitched. "As much as my influence permits."
"Influence, huh?" I finished my limeade and waited for him to finish his tea. When he nodded with resignation, I continued. "Can you be other things besides a genie?"
"Indeed. Benevolence assumes many forms. There are a variety of roles to supply it."
"Caretakers for the lonely. The earliest responders at emergencies. Friendly strangers."
"How are your roles assigned?"
"As long we have the proper skills, we can choose."
He grinned. "There are four experience levels in the League's hierarchy. We spend one year training as a novice and two as an apprentice. To be promoted to principal, we have to become skilled at fourteen human traits or emotions, such as discernment and compassion."
Oh, wow. The more he answered, the more questions I had. "Name a trait that would surprise me."
"Humor." His eyes brightened.
"We want to appeal to humans. Humor eases the process."
"Are you considered proficient?" I swallowed a laugh.
"You wound me, Sara." His smile said I hadn't.